---
Welcome to the Plan-and-Organize-Life.com Newsletter. I hope you enjoy getting the newsletter and that it helps to keep you on track with your organizing goals. Remember, you can get a lot done in only 10 minutes of decluttering and organizing!

Table of Contents

-Introduction
-Monthly Mission – Living Room
-Check Out These Pages! – Relevant pages and new site additions
-Living Simple



Introduction

Happy New Year!! Yet another year has gone by. It's just crazy how the time seems to be flying these past few years.

I'm so excited to see that the new TV show "Tidying Up with Marie Kondo" is available on Netflix!!

I have only seen the trailer but plan to watch a few episodes (or all eight of them) over the next few days. What a great way to get some inspiration to continue on with purging and organizing!

I have jotted down a few things for my 2019 "to do" list and hope to work through them in a consistent and steady forward motion.

Hopefully you've all gotten your holiday gear put away, or are working your way through it.
---
Click on the logo to get cash back on your online purchases you were already going to make!
---
The Monthly Mission – Living Room
It's time to focus on the living room or family room, the main sitting area where family and friends relax and enjoy each others company. That can hard to do if there are piles of stuff on the seating or junk on the floor. To learn more about the monthly mission for January, click here.
---
Keeping the Family Organized

Amy Knapp Wall Calendar 2019 is my ALL TIME favorite calendar with its huge boxes! And it's time to order a new one! With kids in school, I find it easier to use a calendar from August to August and this 16 month one works perfectly. Plus, it's super affordable!

If you prefer to go digital, you might enjoy the Cozi Family Organizer. You can sync everyone's schedules together at no charge.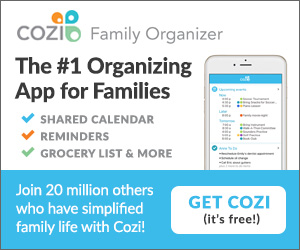 ---
I Can't Wait!
If you're in a hurry to put some order back into your home, perhaps Mimi Tanner's unique method will give you that jumpstart. Check out her method at Declutter Fast: How To Get Your Home In Order Almost Immediately.
---
Check Out These Pages!
Here are some pertinent pages on the website you may have missed along with any new pages.

Daily Routines - Getting yourself into a daily routine will help you to save time and be more consistent with your projects and chores.

Home Filing System - Taxes are coming! Get those papers in order before it's too late.

Running Errands - How to save time and gas running errands most efficiently.

Meal Planning - Plan ahead for meals to reduce trips to the grocery store and save time.

Travel Planning Tips - Are you already thinking about your next trip? Maybe spring break?


---
---
Living Simple
Even though we did a big purge back in June and had a successful garage sale, we still have so much extra stuff in the garage and the house that stresses me out. We still have more than we need, use or love. It's time for another purge. But that makes sense since cleaning and organizing is not a one time task. It's an ongoing, continuous way of living.
In trying to tidy up for Christmas, we had plenty of stuff to clear off the floors, couches, tables. Things that mostly just needed to be put away, or find a place to be put away. But once the rooms were cleared of the extra stuff, it was amazing how spacious our home looked and felt! I want to keep that feeling.
I always feel extra inspired in the new year to make my home more organized. I think part of that is seeing just how much space you regain after taking down all your decorations and giving everything a good vacuuming. I think, "Wow, that made such a huge difference! Now, if I could just do that for the rest of the house." Only it's not as simple as taking down decorations, because I have boxes and a storage space for all that stuff. Ah, see, we're back to the main problem… stuff needs to have a home, a specific place to be put away.
I don't want to be a minimalist and live in a tiny house with my handful of possessions. But I'd still like to have less stuff and more space. What will I gain from reaching this goal?
Benefits to Owning Less Stuff:
More Time: The less stuff we have, the less stuff there is to clean and manage.
Save Money: By not buying as much stuff, we will save money in the long run. Going around the house now, or going through credit card receipts, I can see a lot of needless purchases.
Easier to Find Things: If we own less stuff, and it all has a home location, we shouldn't be wondering where things are!
More Flexibility: If the house is in reasonable shape, we won't feel obligated to clean before deciding to go out and have some fun.
Less Burden: Once something is tossed, donated or given away, it's no longer our burden to worry about. No more looking at it wondering what we should do with it.
So, with that in mind, I'm going to make another run through the house and purge what I can. Hopefully I can make a few bucks in the process as well!



Until next time, happy organizing!
Tracy Greene
Plan-and-Organize-Life.com



---