---
Welcome to the Plan-and-Organize-Life.com Newsletter. I hope you enjoy getting the newsletter and that it helps to keep you on track with your organizing goals. Remember, you can get a lot done in only 10 minutes of decluttering and organizing!

Table of Contents

-Introduction
-Monthly Mission – Tidy Up and Think Ahead
-Check Out These Pages! – Relevant pages and new site additions
-Shipping Deadlines
-Feeling Overwhelmed



Introduction

It's December, and we're smack in the middle of the holiday count down. Anyone else feeling overwhelmed with all that needs to be done, on top of the normal things in life? Scroll down…

The issue of half worn clothes on my bedroom floor has been improving. I still have a little more work to do, but the benefit of being able to walk straight across my room is a good feeling.
---
With the holidays coming, get some money back on your purchases by going through Ebates.com when shopping online. I have received several "Big Fat Checks" over the years! Check it out. Click on the Ebates logo.
---
The Monthly Mission – Tidy Up and Think Ahead
This is the time of year I prefer to tidy up so the house looks reasonable and then just sit and relax and enjoy the holidays. This can still include some decluttering and cleaning, but don't go overboard. It's also a good time to start thinking about your organizing goals for next year. To read more about the monthly mission for December, click here.
---
Keeping the Family Organized

Amy Knapp Wall Calendar 2019 is my ALL TIME favorite calendar with its huge boxes! And it's time to order a new one! With kids in school, I find it easier to use a calendar from August to August and this 16 month one works perfectly. Plus, it's super affordable!

If you prefer to go digital, you might enjoy the Cozi Family Organizer. You can sync everyone's schedules together at no charge.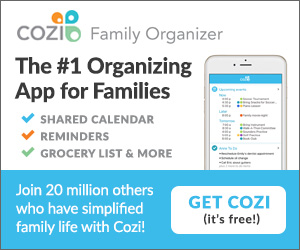 ---
I Can't Wait!
If you're in a hurry to put some order back into your home, perhaps Mimi Tanner's unique method will give you that jumpstart. Check out her method at Declutter Fast: How To Get Your Home In Order Almost Immediately.
---
Check Out These Pages!
Here are some pertinent pages on the website you may have missed along with any new pages.

Holiday Organizing - Get yourself organized for the upcoming holidays so you have more time to relax and enjoy your friends and family.

Holiday Meal Planning - Organize your meal plan and your shopping list to make your shopping and cooking go more smoothly and quickly.

Party Planning Checklist - If you're in charge of putting together a party for the holidays, be sure you have a checklist to guide you.

Meal Planning - Plan ahead for meals to reduce trips to the grocery store and save time.

Travel Planning Tips - If you're headed out of town this holiday, here are some tips to plan your trip.


---
---
Holiday Shipping Deadlines
I have no family that lives even in the same state as me, except for my husband and kids. So, every year, I feel the pressure to shop early in order to meet the holiday shipping deadlines. I mean, you have to shop, contemplate, shop some more and then maybe order something, wrap it, and ship it to get there on time.
December 20th appears to be the big cut off day for most shipping this year within the United States via the postal service. You can get all the details by going directly to the USPS holiday shipping deadlines page.



Feeling Overwhelmed
My overwhelm comes from the long list of things to do, on top of the many balls in the air for family stuff… school, sports, concerts, holiday activities, doctor appointments, grocery shopping, you name it. I look forward to hibernating for Christmas!
What can a person do to reduce feelings of stress and overwhelm?
List: Do your best to make a list of anything and everything that needs to be done. With all your items in one place, this will help keep the mind free from trying to remember everything.
Calendar: Make sure any appointments or specific events are on your calendar and you set a reminder on your phone so you don't miss them.
Prioritize: Decide what's urgent and absolutely necessary and let the rest fall away. You could delegate some items to other people if that won't make you more stressed out. Make sure you schedule time for fun and relaxation too.
One Moment at a Time: Then all we can do is take one day at a time, one moment at a time. Be in the moment and focus on what you're doing. The list and calendar will still be there to remind you of what's later. If you need support, call a friend or family member you can talk to. Or maybe catch a good laugh by watching funny videos on YouTube.
We're only human and we can't do it all in a day. Take care of yourselves, have a great holiday season and I'll see you in the new year!


Until next time, happy organizing!
Tracy Greene
Plan-and-Organize-Life.com



---