---
Welcome to the Plan-and-Organize-Life.com Newsletter. I hope you enjoy getting the newsletter and that it helps to keep you on track with your organizing goals. Remember, you can get a lot done in only 10 minutes of decluttering and organizing!

Table of Contents

-Introduction
-Monthly Mission – Holiday Planning
-Check Out These Pages! – Relevant pages and new site additions
-Laundry- Not quite clean, not quite dirty


Introduction

Hello Folks! Can you believe it's already November? It's time to put all the Halloween decorations away and start settling into that holiday season.

Yesterday I printed out my holiday planning list to help me get organized for the next two months of celebrations, shopping and eating. I love lists and I love to cross things off and feel the satisfaction of completing tasks. And, it leaves me more time to relax when the actual holidays get here.

Another month has gone buy and I've gotten to use my Meal Board app several more times. I'm really enjoying it now that I've got most of my recipes entered into it. I still love the shopping list by store aisle the best and being able to check off items in order! I'm also still looking for new recipes to try and to add to my meal app, but it's easier now knowing I can just download it from the website right into my app.
---
With the holidays coming, get some money back on your purchases by going through Ebates.com when shopping online. I have received several "Big Fat Checks" over the years! Check it out. Click on the Ebates logo.
---
The Monthly Mission – Holiday Planning
Whether you have a little or a lot planned for the holiday season, you'll want to put together a holiday planning list. It'll keep you organized, on task, and perhaps even save you money! To see the monthly mission for November, click here.
---
Keeping the Family Organized

Amy Knapp Wall Calendar 2019 is my ALL TIME favorite calendar with its huge boxes! And it's time to order a new one! With kids in school, I find it easier to use a calendar from August to August and this 16 month one works perfectly. Plus, it's super affordable!

If you prefer to go digital, you might enjoy the Cozi Family Organizer. You can sync everyone's schedules together at no charge.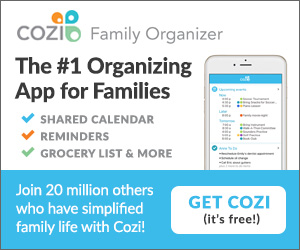 ---
I Can't Wait!
If you're in a hurry to put some order back into your home, perhaps Mimi Tanner's unique method will give you that jumpstart. Check out her method at Declutter Fast: How To Get Your Home In Order Almost Immediately.
---
Check Out These Pages!
Here are some pertinent pages on the website you may have missed along with any new pages.

Holiday Organizing - Get yourself organized for the upcoming holidays so you have more time to relax and enjoy your friends and family.

Holiday Meal Planning - Organize your meal plan and your shopping list to make your shopping and cooking go more smoothly and quickly.

Party Planning Checklist - If you're in charge of putting together a party for the holidays, be sure you have a checklist to guide you.

Meal Planning - Plan ahead for meals to reduce trips to the grocery store and save time.

Travel Planning Tips - If you're headed out of town this holiday, here are some tips to plan your trip.


---
---
Laundry - Not quite clean, not quite dirty
Here's a problem I've been dealing with for a long time that I really need to conquer….
Where do you put your clothes that you take off that aren't quite in need of washing yet?
When I get home I like to change into my loungy clothes to be comfy for the rest of the day. I generally wear shirts one day and they go directly into the hamper next to where I get dressed. That's super easy. Pants typically can be worn another day or maybe two, depending. Those, I put on the floor. Uh, yes, the floor. Well, I try to kind of fold them and lay them carefully, but over a few days, the pile takes up all the space in front of my bed and dresser and is quite annoying, not to mention that things are getting wrinkled. I'm sure my husband doesn't enjoy the pile either.
So, where SHOULD I put them? Obviously, anything other than the hamper or the floor is going to require movement, energy, thought and will power. I know, just do it for goodness sake!!! It's certainly what I would tell my kids.
I'm looking for ideas on what to do. I love being able to walk to my dresser and open the drawers when the floor is clear.
Here are a couple of ideas I came across…
1) Like my Grandma, she had a chair in her (much larger) bedroom. Although I don't recall any clothes piled up on it! And even if I had room for a chair in my bedroom, I don't think a pile on the chair would be the answer, but it's a step in the right direction.
2) Another suggestion I found is to hang a hook on the back of a door, or in a closet to hang the clothes that will be worn again. So, in my case, a hook will require me to go toward a door which is near my closet, so I might as well go to suggestion #3. But, it may work for some of you!
3) Just hang it back up in the closet and turn the hanger backwards so you know its already been worn once. (I tend to do this, but it could take a couple days to physically get the clothes from the floor onto a hanger.)
4) If it's something that doesn't typically hang, you can designate a part of a drawer, or a shelf in your closet where you keep clothes to re-wear. That way, they're still off the floor, folded, and out of sight without mixing them with the clean clothes.
So, ultimately, the basic way to fix this problem all comes down to not being so lazy!!! I need to make it a habit to take that extra 20-30 seconds and hang up the clothes!! Maybe if I stand closer to the closet while undressing, that will help. But then the hamper will be further away. Hmmmm….
Does anyone else want to join me in learning this new habit, or have any additional suggestions?


Until next time, happy organizing!
Tracy Greene
Plan-and-Organize-Life.com



---