---
Welcome to the Plan-and-Organize-Life.com Newsletter. I hope you enjoy getting the newsletter and that it helps to keep you on track with your organizing goals. Remember, you can get a lot done in only 10 minutes of decluttering and organizing!

Table of Contents

-Introduction
-Monthly Mission – Bathrooms
-Check Out These Pages! – Relevant pages and new site additions
-Meal Planning Apps: Meal Board


Introduction

Happy autumn everyone! As much as I love the fall season, I'm going to miss the warmth and laziness of summer.

My kids decided to make their own Halloween costumes this year, to be original, and to save money (ha ha!). My son came up with a cool idea to be a calculator, because he totally loves math. It really suits him. My daughter always has the most grandest of ideas, and I am proud of her creativity, but at the same time, her grand ideas often need a lot of my help, and saving money isn't going to happen with her ideas, ever! She is going to be a dragon; a very shinny, cute dragon with huge wings. We haven't worked out all the details yet, but she sketched out the most amazing idea. We have the week off of school for fall break, and though I had intended to get caught up on some of the things I need to get done, I'm going to be doing some sewing and problem solving. Maybe it's a good thing as I used to design costumes for myself back in the day and it would totally engulf me. This might actually be fun. Housework be damned!

I was hoping to yet again try some sort of home cleaning schedule. We had just cleaned the house for a party and it feels so nice, even though we didn't clean every detail. I'd really like to keep this going. We'll see.

Below, I'll share my latest lessons in meal planning. Though I'm a pen and paper kind of gal, who knew that using an app might actually be better??
---
If you love to shop online and you're not using Ebates, you're leaving money on the table! Earn cash back for your online purchases you were already making! I have received several "Big Fat Checks" over the years! Check it out. Click on the Ebates logo.
---
The Monthly Mission – Bathrooms
Bathrooms can be a messy shared space, but they don't have to be. Here are some suggestions on how to better organize your bathrooms. To see the October monthly mission, click here.
---
Keeping the Family Organized

Amy Knapp Wall Calendar 2019 is my ALL TIME favorite calendar with its huge boxes! And it's time to order a new one! With kids in school, I find it easier to use a calendar from August to August and this 16 month one works perfectly. Plus, it's super affordable!

If you prefer to go digital, you might enjoy the Cozi Family Organizer. You can sync everyone's schedules together at no charge.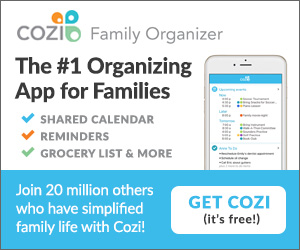 ---
I Can't Wait!
If you're in a hurry to put some order back into your home, perhaps Mimi Tanner's unique method will give you that jumpstart. Check out her method at Declutter Fast: How To Get Your Home In Order Almost Immediately.
---
Check Out These Pages!
Here are some pertinent pages on the website you may have missed along with any new pages.

Daily Routines - Having a daily routine helps to keep you on track and makes keeping tidied up easier as it becomes a routine habit.

Organize Toys - The kids are out from school. Why not make a plan to have them help you organize all their toys?

Home Filing System - Here is the instructions for getting your home filing system together.

Meal Planning - Plan ahead for meals to reduce trips to the grocery store and save time.

Sorting Mail - Simple ideas for sorting your mail as soon as you get it.


---
---
---
Meal Planning Apps: MealBoard
Meal planning is one of my most important life organizing, time saving things I do. But it has gotten tedious as I can never figure out what to eat as it gets boring eating the same old things. Then I saw a review for a meal planning app and thought "why hadn't I checked these apps out sooner?!"
Well, because I'm a pen and paper kinda gal. I have a list of my most common meals in my recipe book that I can scan through and choose from. I also have a printable grocery list with the categories sorted to match the aisles of my local grocery store. At the bottom of the list is a section for each dinner meal planned for the week. I then mentally put any ingredients I need onto my paper list to go shopping. (I have a habit of forgetting some important ingredient on occasion. Oops!)
Goals This one meal planning app was promoting the idea that it pulled in new recipes for you to try and puts them on your weekly menu along with all the ingredients you need to shop for. I wasn't really interested in their recipes. So I explored the world of meal planning apps and found several more. It depends on what specifically you're looking for. Do you want one that picks meals for you to lose weight? One that tells you what you're going to eat for the week? Do you want to be able to use your own recipes? Or maybe it doesn't have the shopping list features you desire, such as my paper list going in a particular order.
Cost Another huge deterrent for some of the apps was the cost. I've pretty much got the idea down, so I don't need to spend several dollars per month to plan my meals.
MealBoard I finally bumped into MealBoard. It cost me a one time fee of $3.99, which I felt was a real deal. It let's me select my week, or month that I want to plan meals for. I can select my recipes from the recipe choices in the app and then sync it to my grocery list so that all ingredients with quantity are instantly added to my shopping list. I can then rearrange the aisle categories in my shopping list to match my store, and rename them if needed. I can even mark if the product has a coupon so I don't forget to use it.
Recipes This may be a pro or a con, depending on what you're looking for, but you need to import recipes. MealBoard comes with a few recipes just to help you get started, but you need to import the rest. You don't have to do it on your phone. You can login online and type in your recipes there much quicker and then sync all devices with the updated info. Even better, you can download most recipes right from the internet and it'll format them into your recipes for you. This allows me to enter my most favorite recipes that I use often, and I can download any new recipes I find that I want to try out. Yes, I still need to do a little recipe searching for new things, but I'd rather do that than have some recipes given to me that don't even interest me or my family's tastes. Plus, once it's entered the first time, all I have to do is select it from then on any time I want it on my weekly menu.
My Experience I'm still playing around with this app but I've been shopping with it three times so far. I'm loving that I can walk through the store in my normal route and check off the items as I pick them up, in order! I don't forget ingredients anymore because if it's in the recipe, it transfers over to my shopping list. If I to double check the recipe for some reason, I have it with me. Also, it's very simple to add items to the grocery list that aren't part of a recipe, like peanut butter, bananas, or toilet paper. This app also allows you to keep inventory of your pantry and refrigerator, but I haven't gotten that far yet. I used to keep a paper list on my pantry and fridge, but I haven't done so lately. This might become useful for keeping certain staples in stock.
Explore If you hate meal planning, check out the many meal planning apps to see if there is something that can help you make shopping and planning much easier. I only shop once a week and meal planning makes that possible. For me, MealBoard is a digital version of what I was already doing, making things more streamlined. See what works for YOU!



Until next time, happy organizing!
Tracy Greene
Plan-and-Organize-Life.com



---