---
Welcome to the Plan-and-Organize-Life.com Newsletter. I hope you enjoy getting the newsletter and that it helps to keep you on track with your organizing goals. Remember, you can get a lot done in only 10 minutes of decluttering and organizing!

Table of Contents

-Introduction
-Monthly Mission – Laundry
-Check Out These Pages! – Relevant pages and new site additions
-How to Dispose of Unused Medicines


Introduction

Hello dear friends! I hope this message finds you well.

I work for the school and I go back in a week, so I've been busy trying to make my summer somewhat productive. I've been busy trying to take control of my home and give it more order and less clutter. Which we all know is a never ending challenge, but we can still make enough progress to feel good. Besides the big garage sale we had in June, I have sold a few things on eBay, I've filed a large pile of papers that have been taunting me, and I've decluttered some shelves and closets. But there is always more!

I've also been working on updating my website to make it more functional for everyone, including when you're on a mobile device, and to make sure it complies with all the new privacy laws. I am thankful to be working with Site Sell because without their support staff explaining in detail what to do, I'd be totally lost!

And lastly, I was updating my wall calendar and realized that August was HERE and I hadn't ordered my new calendar for the upcoming school year. (I prefer to use my calendar from August through July for school year continuity.) Thanks to Amazon Prime, I got my new calendar for August just in time! My all time favorite calendar is the Amy Knapp Wall Calendar for keeping my family activities organized.
---
If you love to shop online and you're not using Ebates, you're leaving money on the table! Earn cash back for your online purchases you were already making! I have received several "Big Fat Checks" over the years! Check it out. Click on the Ebates logo.
---
The Monthly Mission – Laundry
Laundry… it just keeps coming. But if you have a plan to tackle it, it doesn't have to be daunting. For more information about the August mission, click here.
---
Keeping the Family Organized

Amy Knapp''s Wall Calendar is my ALL TIME favorite calendar with its huge boxes! And it's time to order a new one! With kids in school, I find it easier to use a calendar from August to August and this 16 month one works perfectly. Plus, it's super affordable!

If you prefer to go digital, you might enjoy the Cozi Family Organizer. You can sync everyone's schedules together at no charge.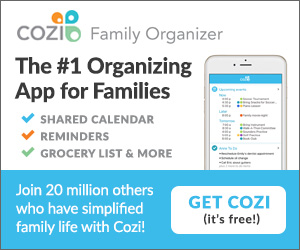 ---
I Can't Wait!
If you're in a hurry to put some order back into your home, perhaps Mimi Tanner's unique method will give you that jumpstart. Check out her method at Declutter Fast: How To Get Your Home In Order Almost Immediately.
---
Check Out These Pages!
Here are some pertinent pages on the website you may have missed along with any new pages.

Daily Routines - Having a daily routine helps to keep you on track and makes keeping tidied up easier as it becomes a routine habit.

Organize Toys - The kids are out from school. Why not make a plan to have them help you organize all their toys?

Home Filing System - Here is the instructions for getting your home filing system together.

Meal Planning - Plan ahead for meals to reduce trips to the grocery store and save time.

Sorting Mail - Simple ideas for sorting your mail as soon as you get it.


---
Ultimate Summer Sale: 15% Off Everything or 20% Off $5,000 or more
---
---
How to Dispose of Unused Medicines
I'm almost embarrassed to tell you this little story, but then again, it just shows that I'm a regular person working along side you to make things better in my home.
I have a small stash of expired medications that have been sitting on my kitchen counter for, oh, almost a year. Yeah. Well, I didn't want to just throw them in the garbage and I thought we weren't supposed to flush medicines either. I don't want to harm the environment or our water supply.
Well, I guess I have been worrying unnecessarily. According to the FDA website here in the U.S., most medications can be thrown away in the household garbage. Some medications deemed dangerous are recommended to be flushed down the toilet when no longer needed to prevent someone else from taking them and being potentially harmed. (Check the patient information leaflet or consult the archived FDA page with a list of drugs to flush: FDA medications to flush.

To toss old medications in the garbage, you're recommended to take the medication out of its container and mix it with something yucky. Then put it in a container you can close back up and toss the container in the garbage. Be sure to ink out any personal information on your prescription label.
To get more details, go directly to the FDA's website regarding how to dispose of medications.

Even better yet, if your community has one, is a drug take-back program. The DEA appears to run programs every April and October during the year. Check the DEA drug drop-off program to see if there is a program near you. You could also check with your local community to see if there is a program during other times of the year.


Med Project has a program for drop-offs. You can put in your zip code and find the closest facility that will help you safely deal with those extra medications. However, they won't take such items as Epi-pens or inhalers and a small list of other items, so check first.
Ahhhh…. Those beloved Epi-pens, which I also have a small pile of. And no, my doctor and my pharmacist will not take them for me as suggested by some other websites. Perhaps at one of those special take back events they will take them. I've also put in a call to my city to see what they can tell me.
So, let's get those old medications off our counters and disposed of properly so they're no longer sitting around!


Until next time, happy organizing!
Tracy Greene
Plan-and-Organize-Life.com



---