---
Welcome to the Plan-and-Organize-Life.com Newsletter. I hope you enjoy getting the newsletter and that it helps to keep you on track with your organizing goals. Remember, you can get a lot done in only 10 minutes of decluttering and organizing!

Table of Contents

-Introduction
-Monthly Mission – Kids Stuff
-Check Out These Pages! – Relevant pages and new site additions
-Organizing Kids for School


Introduction

Hi Friends! It's hard to believe we're heading into fall very soon. I will be a bit sad because as much as I love the fall (I'm a fall baby), I really enjoy the relaxed feel of summer and the long days.

Last month we talked about how to dispose of expired medications. Have you tossed yours out or dropped them off at a place that takes them? My city did respond to me and of course, they suggested I contact the pharmacy and drop locations specifically to get details on what they take.

We're steady into our new school year and all the business that comes with it. Lots of forms to fill out, back-to-school events and homework!! Below are some guidelines to help our kids get organized to do well in school.
---
If you love to shop online and you're not using Ebates, you're leaving money on the table! Earn cash back for your online purchases you were already making! I have received several "Big Fat Checks" over the years! Check it out. Click on the Ebates logo.
---
The Monthly Mission – Kids Stuff
Kids come with a lot of stuff. Let's help them learn to keep organized and to let go of things when they're no longer needed. To learn more about the September monthly mission, click here.
---
Keeping the Family Organized

Amy Knapp Wall Calendar 2019 is my ALL TIME favorite calendar with its huge boxes! And it's time to order a new one! With kids in school, I find it easier to use a calendar from August to August and this 16 month one works perfectly. Plus, it's super affordable!

If you prefer to go digital, you might enjoy the Cozi Family Organizer. You can sync everyone's schedules together at no charge.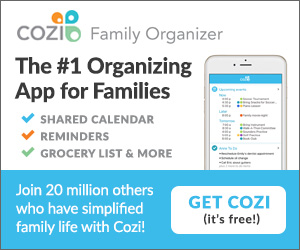 ---
I Can't Wait!
If you're in a hurry to put some order back into your home, perhaps Mimi Tanner's unique method will give you that jumpstart. Check out her method at Declutter Fast: How To Get Your Home In Order Almost Immediately.
---
Check Out These Pages!
Here are some pertinent pages on the website you may have missed along with any new pages.

Daily Routines - Having a daily routine helps to keep you on track and makes keeping tidied up easier as it becomes a routine habit.

Organize Toys - The kids are out from school. Why not make a plan to have them help you organize all their toys?

Home Filing System - Here is the instructions for getting your home filing system together.

Meal Planning - Plan ahead for meals to reduce trips to the grocery store and save time.

Sorting Mail - Simple ideas for sorting your mail as soon as you get it.


---
---
---
Organizing Kids for School
Every year is a new opportunity to teach our children ways to keep themselves organized, especially in terms of getting their assignments done and turned in on time. We get to teach them about lists, time management, and self advocacy. Yay for us!
Here are a five things we can do to help them learn to manage themselves when it comes to school
Build a routine. When the kids come home from school, what's their plan to make sure everything gets done? Maybe to have a snack and unwind from school? Then tackle that homework leaving time for some downtime to play or do something of their choosing, and then some dinner. See what works best for your family, especially if you're loaded with after school sports or other activities!
Have a homework area. Make sure they have a comfortable area to regularly do their homework. They should have organized access to supplies so they're not wasting time looking for things. Allow them to do their homework wherever it works best for them, be it the kitchen table, their own desk, or on the living room floor. Everyone studies differently.
Learn to use lists and calendars. Teach the kids to use lists or a school day calendar to keep track of assignments. Our school provides a "binder reminder" which is a day-by-day calendar that covers the school year. The kids are encouraged to write their assignments down in their binders. Perhaps they want to keep a monthly calendar or use the family calendar to write down important assignments so they don't get forgotten. If they're on the family calendar, you can help guide them to check it and make sure they give themselves enough time to complete their work.
Time management. Speaking of which, teach them how to plan accordingly for daily and long term assignments. If they think the latest project is going to take about five hours, they can plan to spend an hour a day for five days. They need to determine how long and how often they're going to work on it to get it done in time. They can also learn how to manage daily homework assignments. Some schools have an agreed upon limit of time kids should be spending on homework. They can learn to use a timer to make sure they spend adequate time on their work, but not to get lost overdoing it.
Prepare tonight for tomorrow. There is nothing more stressful than running around in the morning looking for school work and that special pair of socks! Have kids get into the habit of setting out their backpack and homework the night before, as well as what they're planning to wear to school. If they bring a lunch, have them prepare what they're able to the night before.
I'm sure that if you're a parent, these are all pretty much common sense, but sometimes we let the stress and chaos run the household anyway. These tips are great for us grown ups too! We can show our kids some simple ways to get things done, and then teach by example.



Until next time, happy organizing!
Tracy Greene
Plan-and-Organize-Life.com



---