---
Welcome to the Plan-and-Organize-Life.com Newsletter. I hope you enjoy getting the newsletter and that it helps to keep you on track with your organizing goals. Remember, you can get a lot done in only 10 minutes of decluttering and organizing!

Table of Contents

-Introduction
-Monthly Mission – Garage
-Check Out These Pages! – Relevant pages and new site additions
-3 Organizing Challenges that Take 15 Minutes or Less



Introduction

Hello everyone! I love the spring as the flowers are blooming and the weather is getting nicer. I'm not really a spring cleaning type of person, but it is a good time to open the windows and clear out the stagnant stuff from over the past few months. It would also be nice if the house were in better order so we can spend our weekends relaxing and enjoying the warm weather outside with friends and family.

Things are very busy around here as the school year wraps up. Lots of testing, concerts and other school events! Let's tackle our clutter, a little bit at a time.
---
Ebates is now Rakuten! If you like to get cash back on your normal online purchases, go to Rakuten to get paid!
---
The Monthly Mission – Garage
As the weather is getting nicer out, it's a great time to get into your garage and clear things out! Go through all the stuff you've tossed in there over the winter. (On my way out a few minutes ago, I found three bags of clothing in the garage that need to be dropped off at the thrift shop!) For more information on the monthly mission for May, click here.
---
Keeping the Family Organized

Amy Knapp Wall Calendar 2019 is my ALL TIME favorite calendar with its huge boxes! And it's time to order a new one! With kids in school, I find it easier to use a calendar from August to August and this 16 month one works perfectly. Plus, it's super affordable!

If you prefer to go digital, you might enjoy the Cozi Family Organizer. You can sync everyone's schedules together at no charge.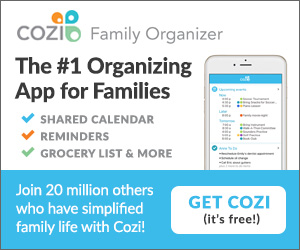 ---
I Can't Wait!
If you're in a hurry to put some order back into your home, perhaps Mimi Tanner's unique method will give you that jumpstart. Check out her method at Declutter Fast: How To Get Your Home In Order Almost Immediately.
---
Check Out These Pages!
Here are some pertinent pages on the website you may have missed along with any new pages.

Daily Routines - Getting yourself into a daily routine will help you to save time and be more consistent with your projects and chores.

Home Filing System - Taxes are coming! Get those papers in order before it's too late.

Running Errands - How to save time and gas running errands most efficiently.

Meal Planning - Plan ahead for meals to reduce trips to the grocery store and save time.

Travel Planning Tips - Are you already thinking about your next trip? Maybe spring break?


---
---
3 Organizing Challenges that Take 15 Minutes or Less
You're busy and you really don't have the time to start a big organizing project. Yet, you're tired of looking at the same piles of stuff that annoy you day in and day out. Here are three organizing challenges that will take you 15 minutes or less.
Clear a Drawer. Take everything out of the drawer. Sort what you found into three piles: items you need to keep in that drawer, items that belong somewhere else, and items that need to be tossed. Put the things you're keeping neatly back into the drawer. Toss anything you no longer need. Then put the things you found that don't belong in the drawer into their proper designated homes.
Clear a Counter. Pick one counter in your kitchen, or that kitchen island and focus on making it clean and clear. Remove all the items on that counter. Determine what must be kept out on the counter, such as things you use often like a daily toaster or coffee pot. Items you don't use often, considering putting into a storage cabinet. Make a pile of any items that need to be put away somewhere else. Toss anything that belongs in the garbage or you're going to donate. Give your counter a quick wipe down and then put only those most necessary items back onto the counter. Enjoy the clear space!
Clear a Cabinet. Pick a single cabinet in your kitchen or maybe your bathroom. Empty out the cabinet of everything inside. Again, sort items you must keep and items you would like to toss or donate, or things that might be better somewhere else. While everything is out, give the shelves a quick wipe down. Put the items you're keeping back inside, stacked or sorted neatly. Toss the other items or put them in a box to donate. If you're sorting food items, be sure to toss those expired foods and make a list of any items you may need to replenish.
You can turn any decluttering and organizing mission into a 15 minute or less challenge by using a timer. Set your sights on a portion of a room, or part of a closet and set your timer. Break down those daunting organizing missions into short spurts of cleaning energy. If you do only 15 minutes a day, that comes to an 1 hour and 45 minutes a week. That's a decent chunk of time, and imagine how that can begin to impact your clutter, and your stress.
Progress, not perfection! Even 15 minutes can make a difference!


Until next time, happy organizing!
Tracy Greene
Plan-and-Organize-Life.com



---