---
Welcome to the Plan-and-Organize-Life.com Newsletter. I hope you enjoy getting the newsletter and that it helps to keep you on track with your organizing goals. Remember, you can get a lot done in only 10 minutes of decluttering and organizing!

Table of Contents

-Introduction
-Monthly Mission – Kitchen
-Check Out These Pages! – Relevant pages and new site additions
-Tody app



Introduction

Sometimes things happen in our lives that completely throw us off track and all we can do is the basic minimum to get by. And that's OK. You need to let things outside of yourself drop by the wayside so that you can take care of yourself and your family and get back on track. Be simple, take care of the basics of sleeping, eating well, reducing stress, and slowly work your way back.

Do you want some help keeping your house cleaned? There's an app for that! Actually, there are many, but scroll below to see how we're using the Tody app in our home.

We are getting cabin fever here! We are desperately waiting for the rain to stop and for some sunshine to brighten our day, as well as allow us to get outside and do some yard work.
---
Click on the logo to get cash back on your online purchases you were already going to make!
---
The Monthly Mission – Kitchen
The kitchen is where we're working this month! Clear those counters and purge your cabinets of those orphaned storage bowl lids! To read more about the monthly mission for March, click here.
---
Keeping the Family Organized

Amy Knapp Wall Calendar 2019 is my ALL TIME favorite calendar with its huge boxes! And it's time to order a new one! With kids in school, I find it easier to use a calendar from August to August and this 16 month one works perfectly. Plus, it's super affordable!

If you prefer to go digital, you might enjoy the Cozi Family Organizer. You can sync everyone's schedules together at no charge.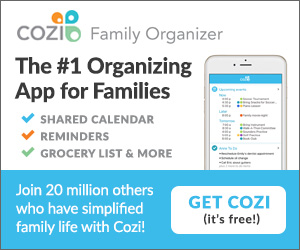 ---
I Can't Wait!
If you're in a hurry to put some order back into your home, perhaps Mimi Tanner's unique method will give you that jumpstart. Check out her method at Declutter Fast: How To Get Your Home In Order Almost Immediately.
---
Check Out These Pages!
Here are some pertinent pages on the website you may have missed along with any new pages.

Daily Routines - Getting yourself into a daily routine will help you to save time and be more consistent with your projects and chores.

Home Filing System - Taxes are coming! Get those papers in order before it's too late.

Running Errands - How to save time and gas running errands most efficiently.

Meal Planning - Plan ahead for meals to reduce trips to the grocery store and save time.

Travel Planning Tips - Are you already thinking about your next trip? Maybe spring break?


---
---
Tody - the App to Help You Clean
I'm always looking for the next best way to help keep our home cleaned and organized. My latest attempt is with an app called "Tody". It cost me $6.99 which for me is on the high side, but because the reviews were truly amazing, and I am desperate to find a way to get the family team to work together to put some order into our home, I went for it.
We've been using it for about a month now, but the key word here is "using" it. If you don't open it up and follow along, it doesn't work. I am still finding myself having to tell the kids "open Tody and do some work!". Yes, it does send notifications to remind you to check in on what needs to be done, but it's still up to the human person to take action. Unfortunately, it doesn't actually clean your house.
I do love the concept though, as it's more of a game than just a list of tasks that need to get done. There is a color coded system in which a room or space can be green, indicating it's clean. As time goes by and a space isn't cleaned as planned, the color becomes yellow, orange, and then, the dreaded red!
The object of the game is to tackle any of the rooms in the red (or sooner), and within a room, working on any tasks that are in the red (or sooner). If you can keep a room in the green, you're doing amazing! But even if you keep it in the yellow or orange, you're doing OK. And it only takes a couple of tasks to turn a room in the red into a room in the yellow or green.
This app can be shared with your family so that everyone can sync together and follow along to be part of the game!
There are a lot of options for you manage Tody as you prefer. You can assign certain tasks, you can give larger tasks more weight for effort, you can see who did what, rotate assignments, and more.
It's such a flexible app, you can use it as a reminder for things other than cleaning your house. If you have other things that need to be done periodically such as, get the oil changed on your car or mow the grass, you can also schedule them into the app.
One cute thing my kids pointed out to me the other day, is at the bottom of the room you're viewing is a drawing of that room and the more cleaning it needs, the dirtier it's drawn. As you clean the room, the picture gets "cleaner".
I will definitely have to check back in after we give it a few more months. We're still in the process of getting used to using it, and tweaking the tasks. Hopefully this will catch on and my house will be tidy and clean!


Until next time, happy organizing!
Tracy Greene
Plan-and-Organize-Life.com



---